Compare Top e-Cigarette and Vaping Life Insurance Rates
Stop Paying Smoker Rates for Life Insurance! We Help e-Cigarette and Vapor's Save Up To 50% on Premiums By Getting Non-Tobacco Rates. Compare Quotes for Free.
How e-Cigarettes and Vaping Affect Life Insurance Premiums
Here's the most important thing you need to know:
You have to apply with a vape friendly life insurance company to get affordable rates!
That's because a select few life insurance companies view vape and electronic cigarettes in a much more favorable way than smoking. This means that you can qualify for non-tobacco life insurance ratings and not worry about nicotine showing up in your system.
The sad truth about vaping and life insurance: most people who vape are paying cigarette smoker rates!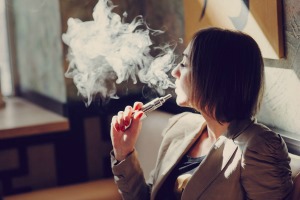 The difference in tobacco (smoker) vs. non-tobacco life insurance rates is about 50% for the same person. This means you'll pay double in premiums if you purchase life insurance with the wrong company.
Put another way: if you're currently classified as a smoker and paying $1000 per year in premiums–you potentially could be saving $500 annually if you applied with a vaping friendly life insurance company!
Here at eFalcon Life Insurance, we are experts in vaping life insurance. Our agents understand underwriting guidelines and will help you secure non-tobacco life insurance rates by matching your electronic cigarette or vaping habit with the insurance company that will view you the most favorable.
It's not uncommon for us to help people save $100s, if not $1000s in annual life insurance payments. Go ahead and compare rates today in 3 easy steps:
View The Best Vaping Life Insurance Quotes in 3 Easy Steps
Get Started for Free
Get started without the hassles or sales pressure. You can research and compare online quotes on your own terms!
View Non-Tobacco Rates
Compare the premiums from companies that will offer vapors and electronic cigarette users a non-smoker rate!
Decide Your Next Step
Our job is to provide you with the best quotes...you decide if you'd like to apply for coverage or need more time.
Compare Top Vaping Life Insurance Quotes
Compare Non-Smoking Rates in Less than 30 Seconds!
Vaping Life Insurance Guide: How To Be Approved as a Non-Smoker
You now know it's possible to secure non-tobacco rates as a vape or e-cigarette user. To be approved for this rate, you have to pass two basic requirements:
Have Not Smoked Cigarettes in Last Year (365 Days)
To qualify for a non-tobacco rate, you cannot have smoked cigarettes in the last 365 days. The life insurance company will ask this question and will not offer you this rate if you have smoked in the last year.
Disclose Vape or Electronic Cigarette Use on Life Insurance Application
You have to admit to using a vapor or e-cigarette on you life insurance application when asked about tobacco use. Although this is not a tobacco product, the life insurance company needs to know that nicotine will show up during the medical exam. As long as your honest, this company has no problem with your habit!
Can you pass those requirements?
As long as you can meet those conditions, we work with a life insurance company that will offer you the non-tobacco life insurance premiums!
From here, you will go through underwriting and medical exam. You will be approved based on you health and other lifestyle factors. If you're healthy and have no medical conditions, your approval can be as high as a Non-Smoker Plus for life insurance rates!
This non-smoker plus category offers the cheapest and most affordable rates on the market for anyone who uses electronic cigs or vape products. Go ahead and see how affordable these rates are:
View The Best Electronic Cigarette Life Insurance Premiums
Common Life Insurance Mistakes Made By Vapors and e-Cig Users
We want this page to be a complete guide for vaping and life insurance. For that reason, we want to talk briefly about the most common mistakes we've seen vape and e-cigarette users while buying life insurance.
Here' the mistakes that you need to avoid:
We seen many people simply not let the company know that they vaped. Whether it's an honest oversight or not, you will most likely test positive for nicotine during the medical exam and be offered smoker rates. Often times, the company will not offer non-smoker premiums when you finally disclose your vape use so always remember to be upfront about your habit.
Bundled Discount Mistake: Buying Life Insurance from Your Local Auto and Home Agent
There's one specific company that offers electronic cigarette and vapors a non-tobacco rating. ONLY ONE! Unfortunately, we have seen so many people assume that all companies have the same underwriting guidelines. The mistake is they go and buy a policy through their local agent who provides them with home and auto policies.
The "discounted policy bundle" is much more expensive because vaping and e-cig's are classified the same as smokers and are paying 2x as much in premiums each year on the life insurance! You may save 15% on your auto and home policy, but in the end the net effect is you end up paying much more total than if you would have gotten a non-tobacco policy elsewhere!
Don't worry...it's our job to help you avoid mistakes and take the hassles out of the process. We will make secure you secure coverage at the lowest cost possible. Go ahead and compare quotes now:
Free Online Life Insurance Quotes for Vapors
Quote Comparison for Vape and e-Cigarettes: Non-Tobacco vs. Tobacco Rates
A common question we get from from vapor's is:
How much more expensive is tobacco rates than non-tobacco rates for vaping?
On average, the same person can expect to pay about twice (two times) as much for coverage if all else is the same. This is why it's so important to apply with the carrier that will offer these lower priced premiums.
Here's a comparison for you:
Non-Tobacco Premiums vs. Tobacco Premiums for Vape and Electronic Cigarettes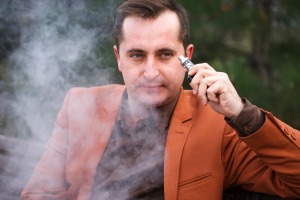 If you're like most of our clients…it's easiest to pay for life insurance premiums monthly through a bank draft. This option is preferred because it simply is debited out of your bank account just like all the other bills.
So what we'd like to do is show you in monthly dollars how much you can save if you apply with the vaping friendly life insurance company. Here's the details of the comparison:
The Comparison Details: quote is for a 40-year old vaping male who is shopping for a $250,000 term policy that last 20 years (20-year term coverage). This person is healthy and qualifies for non-tobacco plus coverage and preferred plus smoking coverage. (remember because he vapes, he qualifies for non-tobacco with one carrier, but would be offered tobacco rates with all others).
Here's the monthly life insurance premiums for a 40-year old man who vapes:
| Non-Tobacco Rate | Best Tobacco Rate | Most Expensive Tobacco Rate |
| --- | --- | --- |
| $38.03 Monthly Premium | $95.89 Monthly Premium | $124.41 Monthly Premium |
…as you see above, the cheapest price for the tobacco category premium is over $55 more per month than non-tobacco policy for the same vapor! To add insult to injury, if you're agent has you apply with the wrong tobacco company you can see premium could be as expensive as $124 per month!
Key point to secure affordable rates: always apply with a company that views vaping and e-cigarette use favorably. If you feel the need to pay more and use your home & auto agent, make sure you shop and compare multiple quotes.
If you want to most affordable rate, we recommend paying your premium annually. Here's why:
Annual Payment Comparison for e-Cigarette User: Non-Tobacco Rates vs. Tobacco Rating
I've got great news for all you e-cig users who love getting discounts!
If you pay your life insurance premiums annually you can typically save between 10% and 15% on coverage. This annual payment discount is common for any company that offers coverage. This means that anyone that vapes or use cigarette alternative is eligible to save money!
To give you an idea of annual payments, we will use another comparison: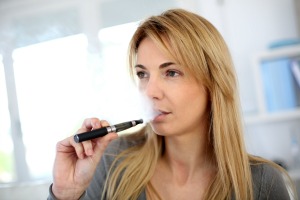 Online Quote for 35-Year Old Female Who Vapes: in this example we will take a look at woman who wants $500,000 in coverage to protect in family in the event that she passes away unexpected. She applies for 20-Year Term Policy with $500,000 in a death benefit payable to her kids.
This is a common coverage amount for income replacement. In this scenario, the woman was wanting to protect her $50,000 salary if she died. This would give her family ten years worth of income replacement ($50,000 times 10) to make sure they would be okay financially.
Here's the annual premium amounts for $500,000 in coverage for a thirty-five year old woman:
| Non-Tobacco Rate | Best Tobacco Rate | Most Expensive Tobacco Rate |
| --- | --- | --- |
| $460.00 Annual Premium | $1069.00 Monthly Premium | $1320.00 Monthly Premium |
...the cheapest tobacco rating has a annual premium that is over $600 per year more expensive than the same non-tobacco vaping life insurance policy! What's worse, the most expensive tobacco rate is over $850 more (over 2x more) than the non-tobacco premium.
Here's some quick math for you:
Over the 20-year time frame of this policy (20-year term policy), the woman that vapes in this example will be saving over $600 dollars per year. This adds up to over $12,000 in total savings over the course of this coverage.
Would you like to save $12,000 over the next 20 years?
It's actually pretty easy to do…all you have to do is apply with the electronic cig and vape friendly company. Go ahead and find out how affordable coverage can be with our free quote:
View Non-Tobacco Rates Now
Vape and e-Cig Life Insurance Quotes by Age
coming soon!